If you have a chocolate loving teacher on your shopping list, here are some great ideas that can be shipped fast in time for next week, Teacher Appreciation Week.
Mrs. Beasley's Pearl Basket, Filled with cookies with Ghiradelli chocolate, brownies and truffles.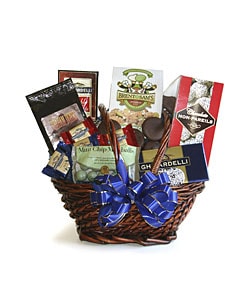 Chocolate Lover's Gift Basket, Filled with chocolate chip cookies, chocolate espresso beans, chocolate-covered sandwich cookies, a chocolate-covered graham dunk, English toffee, Ghirardelli cocoa and an assortment of Ghirardelli chocolates.
Double Chocolate Layered Towel Cake, Relax and eat chocolate...does it get better?
Give Chocolate and Make a Difference!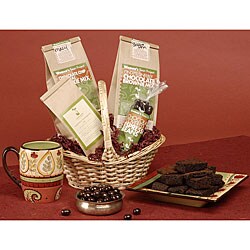 Set Includes:*Women's Bean Project's assorted Jelly Beans *Dark chocolate covered espresso beans *Cindy's Sinfully Chocolate Brownies.
The Story Behind the Art: Women's Bean Project is a Worldstock partner and a nonprofit organization that teaches job readiness and life skills for entry-level jobs through employment in our gourmet food production business.
Quick and easy? King Size Hershey's Bar with a handwritten appreciation note. Cost, priceless.
What not to buy? I Love Chocolate t-shirt, Make Mine Hot Cocoa mug, etc. Go with the real thing and a note. There's nothing more fun than receiving a delivery at work. Stop by the local flower shop and order a bouquet to be sent to the school and give them the teacher's favorite candy bar to stick inside the bouquet.
All right, all of you chocolate lovers...what would you like if you were the recipient?